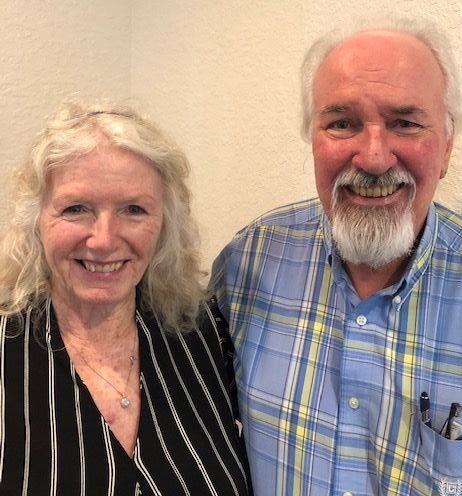 Peter & Sylvia Blackmore: Realtors & Broker/Owners
Specialties:

Buyer's Agent
Listing Agent
Relocation
Notary Public
Peter was born in the UK, South of London, and graduated from High School in Surrey, UK. He moved to Spain in 1972, principally to work in Real Estate which had become his passion, as well as to pursue Sylvia, born in the North East of England and who was working in Spain, in a Real Estate office. They remained there until 1999 when they moved to Florida full time. In 1993 they discovered the community of Highlands Ridge in Avon Park, FL. They became FL Licensed Real Estate Agents in 1998 and Brokers in 2002 and 2003 respectively, opening their own office, Orlando Golf Realty in Davenport in 2002 - 2018, and later formed Golf and Home Realty in the Avon Park/Sebring area. They specialize in Golf Course and Retirement Communities in South Central Florida.
Having been through the relocation process personally, they feel very comfortable assisting others to make the transition. They are also licensed to handle manufactured home sales on leased land.

Mary Harden - Realtor
Mary was born in central Pennsylvania and lived in a rural area north of Harrisburg until her two sons graduated from college. In 1997, she moved to Harrisburg and completed her Bachelor's degree while working at the local Community College as a Financial Analyst. In 2005 she obtained her Real Estate license and represented buyers and sellers as well as managing properties for herself and others.
In 2009 she moved to Fort Lauderdale with her niece who attended Broward College. She obtained a Florida real estate license and worked with buyers and sellers in the greater Fort Lauderdale Area and as an office manager for a condo association in Lighthouse Point. Mary moved to Highlands Ridge just in time for Hurricane Irma.
She will be working with buyers and sellers of real estate as well as rented land.
Henry (Hank) Beauparlant: M/H's on leased land sales
Hank is currently not a Realtor but is registered with the Division of Highway Safety & Motor Vehicles as a salesperson for MH's on leased land in our m/h division. He was born and raised in Manchester, NH., and is a US Air Force VietNam Veteran. He retired as a Professional Firefighter/Captain from Laconia, NH Fire Department where he served for 30 years, BS in Fire Administration. He is married and has been living with his wife in Highlands Ridge, Avon Park since 2001 and has 2 sons and 8 grandchildren.